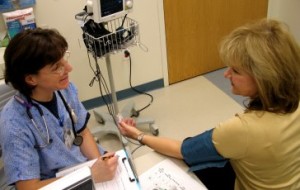 Those exploring different specialties in the nursing profession may be interested in learning more about the role of a triage nurse. If you have ever been a patient in an emergency room, you have likely seen such a nurse at work. A nurse who is trained in triage is trained to quickly assess and sort patients so that they can get the proper attention and care.
Triage Role and Duties
It's the job of a triage nurse to competently assess patients in emergency care. These may be patients suffering illness or patients who have been involved in accidents or other traumatic events. When assessing a patient, the nurse will generally ask the patient questions, gather information and take a patient's vital signs, including temperature, blood pressure and respiration, according to Share Care. Some of the questions will have to do with a patient's medical history, particularly when their current symptoms started. The nurse will probably also ask the patient questions about any medications they are currently taking. The goal of gathering data about a patient's complaint or condition is to make a decision about where they need to go next for care. Since many patients can come through the doors of an emergency room, it's important that a trained and skilled nurse be able to decide who needs care most urgently. Some patients may be able to be treated quickly, while other patients may need to go to other parts of the hospital in order to have x-rays, lab testing or other services.
Education and Training
All triage is done by registered nurses (RNs) but the Emergency Nurses Association recommends that a nurse have more training and skills than just basic nursing. Some of the recommended components of that training includes CPR and ALS courses. CPR stands for cardiopulmonary resuscitation and ALS stands for advanced life support. Another important course they recommend is the Emergency Nurse Pediatric course, which trains nurses to work triage in disaster situations that involve children. Trauma nursing and geriatric emergency nursing courses are also recommended so nurses can be trained to handle a variety of patients in situations related to trauma and emergency. There may be other important courses for nurses preparing to work in triage, but these are considered some of the standard ones. Nurses in this area generally also work toward certifications as either a Certified Emergency Nurse (CEN) or a Certified Pediatric Emergency Nurse (CPEN).
Related Resource: Associate in Nursing Online
All of this extra training is required because the work of a nurse in a triage situation is very demanding. A nurse must be able to calmly and capably communicate with a patient in need, ask appropriate questions, make good decisions quickly and focus in situations that might be highly stressful. Communication skills are essential, because triage nurses often have to explain things to patients and their families as well as delegate certain tasks to other health professionals. A triage nurse is an important part of an emergency care team, working to ensure that patients who need treatment right away are prioritized properly.