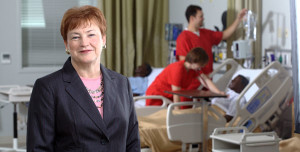 Professional nurses who have a strong desire to pass on their knowledge and skills can do so by becoming a director of nursing education. In general, educational nursing directors lead other nursing educators, coordinate curriculum and program development, supervise instructional practices, oversee continuing education opportunities and ensure that operational procedures and policies comply with federal and state guidelines for accredited nursing programs. Due to the importance of their position, directors of nursing education must possess their own verified credentials in the nursing field including appropriate certifications and levels of experience.
Degree and Certification Requirements for Nursing Education Directors
Directors of nursing programs are required to hold a master's degree in their profession, be certified as a registered nurse and have at least 10 years of work experience in the medical health profession. These qualifications are minimum standards for moving into many administrative leadership positions within the nursing field. In some cases, directors of nursing education may have doctorates that specialize in nursing administration. The National League of Nursing also endorses earning credentials as a Certified Nurse Educator. This certification establishes nursing education as a specialty practice area and promotes excellence, leadership, and high standards within the profession.
Job Responsibilities of a Director of Nursing Education
Due to their advanced education and experience, nursing education directors are expected to understand and effectively convey information about the latest issues, trends, practices and regulations to other nursing professionals and nursing students. They must be able to multitask to lead and direct others while aggregating data about nursing programs to present to their own management team and supervisors. According to Nurses For a Healthier Tomorrow, a director of nursing education must also be able to work with learners of varying academic and experiential abilities, from first-time nursing students to credentialed nurses pursuing advanced degrees or participating in continuing education programs. Anticipated duties for a director of nursing education include
Developing, planning and supervising nursing instruction including continuing education programs
Overseeing faculty and staff performance
Following legal and procedural guidelines to maintain program accreditation
Evaluating student learning outcomes and documenting learning progress
Advising students and completing peer reviews
Participating in clinical nursing research and maintaining clinical competencies
Belonging to professional organizations that promote high nursing standards and state-of-the-art nursing practices
Job Expectations and Salary Benefits
Nursing educators report having a high degree of job satisfaction overall. In particular, they enjoy sharing their expertise with future nursing professionals and leading programs that help improve the quality of patient care. Career flexibility is also appealing with employment opportunities spanning a variety of settings such as universities, colleges, hospital-based nursing schools, technical or vocational institutions, community health agencies and residential care facilities. Financially, nursing education directors enjoy solid incomes by earning median annual pay of $110,968 in addition to receiving healthcare, disability, annual leave and retirement benefits, according to Salary.com.
Related Resource: Nurse Practitioner
For candidates with the right education, credentials and experience, joining the ranks of other nursing education administrators can be a viable career option. If passing on your skills to future generations while advancing practices that benefit the public good sounds appealing, then becoming a director of nursing education may be a good career choice to consider.