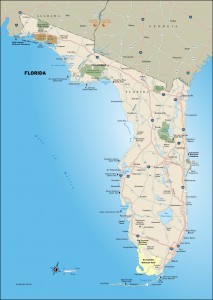 An Associates Degree in Nursing is aimed at teaching students the skills necessary to become a competent and employable generalist nurse, and earning an Associates Degree in Nursing in Florida is possible through many avenues. In most nursing programs, classroom time is combined with patient care labs and actual clinical experience to create a well-rounded and work-ready graduate. Graduates of an Associates Degree in Nursing program also have to obtain a national license from the National Council Licensure Examination (NCLEX-RN) to become employed as a nurse. The Associates Degree in Nursing aims to prepare students for this examination.
Where to Earn an Associates Degree in Nursing in Florida
While Florida has more than 100 accredited nursing programs, there are several which stand apart from the rest. Pensacola State College in downtown Pensacola is an NLNAC accredited program with the largest nursing degree faculty of any program in the state of Florida. It offers a full time faculty of 23 people including multiple program directors and administrative assistants. This program also offers nursing options in surgical techniques and practical nursing. Graduates from Pensacola State College have an 89.8% pass rate on the NCLEX test, one of the highest in the state.
Northwest Florida State College, located on the edge of Niceville, is another excellent option. NFSC is remarkable because it offers an RN to BSN program, allowing registered nurses who would like to continue their education and further their career to achieve a bachelor's degree in nursing. Fieldwork is available in two different counties depending on what is convenient for the student, and the program can be completed in one or two years. This program has a 97.7% NCLEX pass rate for its RN program, the highest of any program in the state of Florida.
Another great school at which to earn an Associates Degree in Nursing in Florida is Keiser University, located in Orlando. Apart from also offering the RN to BSN degree, this program focuses graduates on management, leadership, and research positions, allowing graduates to pursue diverse employment opportunities after graduation. It has the state's second best NCLEX pass rate at 94.4%, being beaten only by Northwest Florida State College.
Financial Aid and Career Options For Those Earning an Associates Degree in Nursing in Florida
The Florida Pell Grant is a grant available to residents of Florida who can demonstrate financial need and can be used at any Florida college as long as the student completes a FAFSA. As a grant, the Florida Pell Grant does not need to be repaid. Many scholarship opportunities are also available to residents of Florida, including the Janet Colliflower Keys Nursing Scholarship Program which offers the awarded students up to $1,000 per year toward their Associates Degree in Nursing in Florida.
There are nearly 3 million nursing jobs in America today, making it the single largest health care job market in the nation. While the majority of these nurses work in hospital settings, many work in the office of a physician, nursing facilities, educational facilities, or other private firms. The job market for nursing is expected to explode by almost a quarter in the next decade, largely due to the aging population of the nation.
For those who are seeking employment in the Florida area, Florida Hospital in Orlando is the largest employer with just under 10,000 employees, followed closely by Tampa General Hospital in Tampa, Florida, with just under 7,000. Due to the disproportionately large number of retirement communities in the state of Florida, this state is expected to be one of the primary beneficiaries of the increased elderly population anticipated over the next decade, which naturally will make Florida a great place to find a nursing job after completing your Associates Degree in Nursing in Florida.