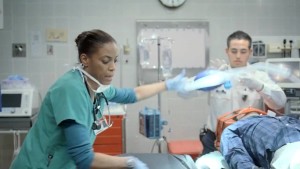 If you are contemplating working in emergency nursing, you may also be contemplating the difference between an emergency room nurse and a triage nurse. It's a good question to be asking, since the distinction between the terms is very subtle. Probably all emergency room nurses have received at least some standard training in triage skills, but not every ED (emergency department) nurse has received the highly specialized training that may be reserved for someone actually called a triage nurse. Basically, the higher your level of training in triage skills, the more likely you will be called upon to perform triage at a high level in an emergency department, acting as a team leader or making assessments in a difficult crisis situation.
Why Triage is Necessary
The term triage was originally developed on the battlefields of the early 19th century. Medical personnel had to devise a way to quickly assess a large number of wounded people to determine who was near death, who would likely live, and which patients would benefit from treatment first. These same skills are important in emergency room settings in hospitals, where patients come when they are critically ill or injured. In the case of an accident, natural disaster or other crisis involving multiple patients, an emergency room may become crowded and such quick-thinking assessments and decisions can become even more important. Even in a less crowded emergency department, however, there still needs to be some way of establishing which patients should receive priority care and which can wait. Some doctors and nurses are specially trained to provide those assessments and make those decisions.
What Triage and Primary ER Nurses Do
A triage nurse is generally the first medical professional that someone sees when they are taken into an emergency room, according to the Center for Advancing Health. It will be that nurse's job to assess whether or not the patient needs immediate care or can wait. The nurse keeps a list of who goes where and in what order, and will likely be the person to conduct patients where they need to go, either to a room where they can continue waiting until it's their turn to be seen, or to a room where they can be looked at and immediately treated.
A primary ER nurse will likely be the next person the patient sees. It will be their job to do a more full assessment of the illness and injury and either begin treatment (for example, cleaning a wound or providing intravenous fluids) or get the patient to a place where further treatment can be administered by a doctor. A primary ER nurse has to be able to help patients and deal with family members and their questions.
Related Resource: Labor and Delivery Nurse
All emergency nurses need to be trained to assess patient needs quickly and capably, but a triage nurse is on the front lines. Because of this, triage nurses often go through more specialized training involving assessment tools as well as skills such as CPR and advanced life support in case they literally have to save and stabilize a patient in the throes of a life-threatening situation, according to the Emergency Nurse's Association. The difference between an emergency room nurse and a triage nurse is subtle; both are important roles in emergency nursing.