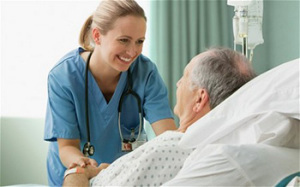 If you have always dreaming of pursuing a career in nursing, the first step is to become a LPN. An LPN, which stands for Licensed Practical Nurse, is a nursing professional who possesses a practical nursing degree. Compared to the professional nursing degree that a Registered Nurse is required to possess, the practical nursing degree takes less time to earn and requires less money. While it takes less time to become an LPN, both RNs and LPNs must pass an NCLEX exam before they can officially work with either title. Find out more about the duties and responsibilities of an LPN so that you can decide which nursing program is right for you.
What Do LPNs Do in a Healthcare Setting?
The primary responsibility of an LPN is to provide routine medical care to individuals who are sick or disabled under the direction of registered nurses and physicians. This is a very broad statement, and the actual duties of LPNs will depend on the limitations set by the state and the policies of the facility itself. If you live in a state with a wide scope of practice, as an Licensed Practical Nurse you may be able to perform most of the same tasks that a Registered Nurse performs. If you live in a state where the boards of nursing has permitted a much narrower scope of practice, LPN's are very limited in what they are allowed to do, according to All Nurses.
On a typical day, LPNs may initiate IVs, administer medications as ordered by the attending physician, collect data on each patient, assess and monitor the condition of the patient, check vital signs, take care of wounds, change dressing, insert catheters, take blood for blood sugar testing, and provide other types of routine care. You will need to keep accurate records and document everything in the patient's chart as well.
Where Do LPNs Work and Who Do They Report To?
Now that you know where your skills will need to lie if you choose to be a practical nurse over a professional nurse, the next step is learning about where you will work. Most Licensed Practical Nurses work in an acute care hospital setting, but they can also work in nursing homes, long-term care facilities, hospices, home care, psychiatric hospitals, group homes, clinics, doctor offices, schools and rehab centers. As stated before, many LPNs will report to Registered Nurses, but not all. In some settings, the LPN will work under sole supervision of a Physician. In some states, the LPN may actually be the only licensed nurse in the facility. In this case, they will oversee the nursing assistants themselves and make healthcare decisions.
Related Resource: Home Healthcare Nurse
You must consider which setting you would like to work in, what tasks you would like to perform, and what your future career goals are when you are deciding which license is best for you. If you live in a state with a wide scope of practice, you may be interested to start your career quickly and study to become an LPN. If you want more training and more responsibility and you have the time to study for longer, being an RN may be the better direction for you. Consider the pros and cons of studying to become an LPN and you decide for yourself.