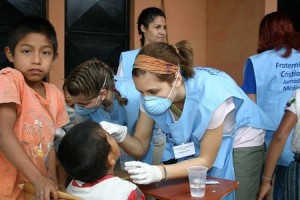 If you want to work within you community and make a difference where you improve the health of those that you work with, you may want to consider becoming a public health nurse. Nurses within the public health sector are responsible for improving the health of the population within their area. They often work in health clinics or in other public health settings like schools and correctional facilities where students and inmates need access to healthcare, according to Explore Health Careers. This multi-faceted job is both challenging and rewarding. Read on and find out more about the role of the nurse in public health and how they get qualified for that role.
What Does a Public Health Nursing Professional Do?
Instead of working closely with a single patient, a nurse in the public health sector will work with the community to identify trends and health risks that are specific to the community. The purpose of identifying these trends is to come up with solutions and interventions that will tackle health-related issues and that will help educate those who are at-risk of how to prevent disease.
The nurse in public health also plays an important role in advocating with federal authorities and the policy makes in the local area to come up with programs that will give under-served populations access to healthcare and also preventative care that can save lives. While much of a person's health has to do with genetic makeup, public health nurses stress the importance of lifestyle and the environment and how these two factors can lead to disease. This is why health education is a major focus in the field and the audience can range from pregnant women and their babies and school children to the elderly and inmates who are currently in custody.
What Do You Need to Do to Work in Public Health Nursing?
When you attend school to earn your nursing degree, you can work in a wide range of generalist roles in settings ranging from hospitals to physician's offices. You can even work in public health clinics with your nursing credential, but you are not a public health specialist until you complete advanced training.
The very first step to step into public health nursing is to complete a nursing degree program and pass the uniform nurse licensing exam. Many students take different pathways to licensure, but it is best to take a Bachelor of Science in Nursing since you will later be taking an advanced degree program to earn the specialist title. After you have worked in nursing for some time, enroll in a master's program in nursing so that you qualify for the Advanced Public Health Nursing credential that will get you attention, according to the American Nurses Credentialing Center.
What is the Demand in the Field?
One of the great thing about new healthcare reforms is that they have given those access to healthcare who did not have access in the past. This growing need for care has created a growing need for professionals in the public health arena. According to the Bureau of Labor Statistics, community health workers are high in demand and the field is projected to grow by 21%. This is much faster than the average growth in the US.
Related Resource: Labor and Delivery Nurse
There are several different duties that you can perform as a nurse in public health. Be sure that you know the path that you want to take before you enroll in school. Once you know the path, you can research degree programs and then study to get certified as an advanced public health nurse.