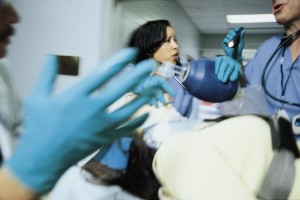 If you love to help others and work well under pressure, you might want like to earn the degree needed to be an emergency room nurse. As in all fields of nursing, there are multiple paths towards certification as an emergency room nurse, and you can choose the program that best suits your personality and personal situation.
Becoming an RN
In order to work as a nurse in an emergency room, you need to become a registered nurse. RN programs generally take between two and four years to complete. You can earn your RN with
An associate's degree
A bachelor's degree
A diploma from an accredited nursing school
Although each of these paths toward an RN will qualify you to work in an emergency room, a bachelor's program generally offers the most clinical practice. Following any degree or diploma program, nursing students must pass a licensure exam in order to become registered nurses, according to the Bureau of Labor Statistics.
Specializing in Emergency Room Nursing
In order to obtain certification as an ER nurse, you must pass an additional certification test offered by the Emergency Nurses Association, and other specialized emergency room certifications are also available to registered nurses. These include trauma certifications and certifications in emergency pediatric care.
Being an Emergency Room Nurse
Not every nurse is cut out to be an emergency room nurse. ER nurses must think and act quickly in order to save lives. Personality traits that are helpful to ER nursing include
Excellent prioritization skills
The ability to shift gears quickly
High energy
The ability to multitask
Excellent interpersonal skills
Assertiveness, especially in patient advocacy
The ability to remain calm in chaotic situations
A great sense of humor
Excellent observation and assessment skills
If you have the necessary personality and skills to work as an emergency room nurse, you will have a variety of work locations from which to choose. ER nurses work in
Hospital emergency departments
Mobile medical units such as ambulances, helicopters and airplanes
Poison control centers
Prisons and correctional facilities
Emergent care facilities
Crisis intervention centers
State and federal government agencies
Finding an ER Nursing Job
The current shortage of nurses has made it easier for new graduates and newly certified RNs to obtain positions in emergency departments and other emergency facilities. Many hospital emergency departments are willing to hire nurses and provide on-the-job training. However, because of the nature of emergency-room nursing, many hospitals do not hire new graduates even today. If you fail to find a position as an ER nurse upon graduation, consider working in a critical care environment to gain experience in high-pressure situations. While searching for an emergency-room position, take advantage of any continuing education opportunities that arise, and consider joining the Emergency Nurses Association.
Related Resource: Home Healthcare Nurse
Nursing jobs are abundant in today's job market. To work in an ER, you need to be quick on your feet and have the right personality to handle working under pressure. If this type of work environment is attractive to you, don't hesitate to earn the degree needed to be an emergency room nurse.