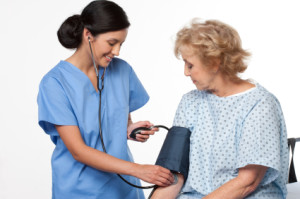 One of the first questions that students interested in nursing programs asks is how long it takes to get an Associate's in Nursing degree? They assume that earning an associate's degree will take less time than earning a bachelor's degree will. While they are right, many students find that they later need to go back to school to finish a bachelor's degree to advance in the field. Earning a lower degree lets you take the nurse licensing examination and work as a nurse, but the amount of time you spend in the program depends on a few factors.
Prerequisite Courses
The main thing that impacts how long you spend in the program is whether you took any prerequisite courses in high school or college. Some schools that offer an Associate's in Nursing, also known as an ADN, require that you complete those courses and achieve a grade of "C" or better before entering the nursing program. Those courses often cover science topics and may include anatomy, biology, physiology and chemistry. If you did not take those courses in the past, you'll likely spend an additional semester or two in school.
Nursing Classes
How long it takes to get an Associate's in Nursing degree can also vary based on how well you do in your nursing program. Many schools require that you earn a minimum of a "C" in each course, and some schools will not let you progress unless you receive a "B" grade or higher. If you fail to pass that class a certain number of times, the school may remove you from the program. Your nursing classes teach you the basic skills that you need when working in hospitals and other medical settings and ensures you understand the hardships of the job.
Clinical Rotations
As an ADN student, you can look forward to taking part in clinical rotations. Also known as clinical experiences, these rotations take you out of the classroom and put you to work in the field. While working under a nursing supervisor, you'll take vital signs, meet with patients, get medical histories and perform the other duties that nurses do every day. The amount of time that you spend performing these rotations varies. Some schools ask that you complete one year of rotations at the same time that you take other classes, and other schools ask that you spend one semester doing only your rotations.
Typical Length to Obtain an ADN
According to the Bureau of Labor Statistics, the average time that it takes to finish an ADN is between two and three years. How long it takes to get an Associate's in Nursing degree often depends on how much time you commit to the program. If you work part time on your degree and focus more on your job, it might take you three to four years to finish your degree. The more time you commit to your studies, the faster you can finish the program.
Related Resource: NCLEX Exam
Nursing is a rewarding career path, but you need to spend some time preparing and planning for your career. Many students want to know how long it takes to get an Associate's in Nursing degree, because they want to complete the program quickly, but it usually takes two years as a full time student to finish the degree and three or more years to earn a degree as a part time student.