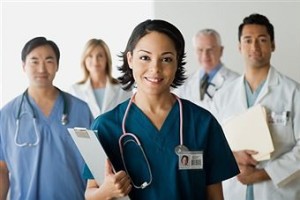 If you are considering going into nursing, you may be wondering how long it takes to become an RN with an associate's degree in nursing. There are a number of paths that one can take to become a registered nurse (RN), and getting an ADN (associate degree in nursing) has long been an acceptable and useful way to enter the field. It also has the advantage of taking a shorter amount of time than getting a Bachelor of Science in Nursing (BSN) though the BSN has other advantages.
Length of Time for an ADN
The length of time it will take you to earn your Associate's in Nursing is generally considered to be about two years, half the time it takes to complete a traditional bachelor's degree. You can find ADN programs in university, community college and sometimes vocational school settings, as well as pursue the degree online. Sometimes you will also find hybrid programs that combine online coursework with on-campus work. If you are able to pursue the degree full-time, you should be able to finish in two years or a little less. Some ADN programs require some general pre-requisite courses, so you may need to factor those into your timetable. Once you have your associate's degree, you will need to complete and pass the national licensing exam in order to become an RN.
Advantages, Disadvantages and Stepping Stones
The immediate advantage of the shorter ADN degree is that it allows you to begin working as an RN more quickly. Obviously, the two year degree also will not cost as much as the BSN. However, there are some potential disadvantages if you plan to stay in nursing long-term. Although the associate's degree was the entry level standard in nursing for a long time, these days the bachelor's degree is becoming the standard, according to Nursing Licensure. There are at least some hospitals that will only hire RNs if they already have a bachelor's. While many hospitals will still hire ADN prepared nurses, you may find that your work opportunities are more limited than if you had a higher degree. It is likely that you will not earn as much as a colleague with a BSN.
The good news, however, is that employers offer a lot of encouragement and practical incentive for ADN prepared nurses who want to go on and get a BSN. In fact, many nursing programs are now available that are tailored for students just that way. They are called RN-to-BSN programs, and they allow RNs who don't have a bachelors degree to pursue one while continuing to work. So the associate's degree can be a good stepping stone toward the higher degree.
Related Resource: Labor and Delivery Nurse
While the long-term disadvantages of having only an associate's degree are clear, there can still be good reasons to pursue the associate's degree in the short term, and the relative length of the degree is one of the main advantages. If you are asking how long it takes to become an RN with an associate's degree in nursing because you feel a strong desire or have a practical need to begin your nursing career as soon as possible, then this can still be a smart educational path for you to pursue.