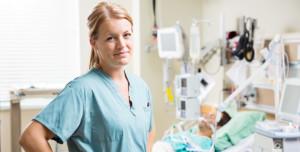 In order to become an ICU nurse, students must get the right education, licensure and experience. Below explains four simple steps to become a critical care nurse.
Attend College
Critical care nurses are RNs who only care for acutely ill or injured patients. An associates or bachelor's degree in nursing is the basic requirement to become an RN. A Bachelor's of Science in Nursing (BSN) is the standard degree that RNs earn. This degree covers basic classes, such as nutrition and physiology, and advanced classes, such as pharmacology and public health. BSN degree programs usually include courses such as bioethics, genetics, statistics and microbiology. It is important for an ICU nurse to have a strong academic background because these programs are designed to promote professional leadership, community nursing and practical competencies.
Pass the RN Exam
After completing an approved training program, prospective RNs must pass the National Council Licensure Examination for Registered Nurses (NCLEX-RN), according to the National Council of State Boards of Nursing. In order to gain eligibility for the exam, students must obtain an Authorization to Test (ATT) from their state's board of nursing/regulatory body (BON/RB). Once this is complete, they take the NCLEX-RN exam that is comprised of four main categories. The first is safe and effective care environments, which covers infection control and care management. The second is health promotion and maintenance, which tests things like comprehension of health screenings and high risk behaviors. The third section, psychosocial Integrity, involves things like addictions, mental health and crisis interventions. The fourth section, pharmacology and therapies, tests things related to lab work and diagnostic tests.
Obtain State Licensure and Employment
Upon successfully passing the RN exam, nurses may obtain their state specific RN license. Now, they must find full-time employment in an acute, critical or intensive care unit. However, they will most likely start as an entry-level RN performing basic care duties such as patient evaluations and administering medication. If possible, the RN should seek clinical rotations in acute care units because most health care employers require previous experience in a critical care setting. Because competition is fierce for ICU unit employment, nurses should consider obtaining a master's degree in nursing.
Attend Graduate School
RNs who want to increase their marketability should seek graduate education, which will allow them to specialize in clinical, adult or general nursing. These degree programs will present the student with the basic concepts and practices of advanced nursing roles. Master of Nursing degree programs will train the students in cutting edge qualitative and quantitative research methods. Students will master the strategies and techniques needed to incorporate evidence-based practices into their work. Other courses will introduce the student to health policy, economics and legal perspectives. Finally, a master's degree will prepare the student to become a manager or administration in their health care organization. Students may also specialize their master's nursing degree in leadership and learn advanced IT, HR, finance and organizational skills.
Related Resource: Public Health Nurse
A student who wants to become an ICU nurse must obtain an accredited nursing degree, pass the RN exam and gain experience working in an ICU setting.