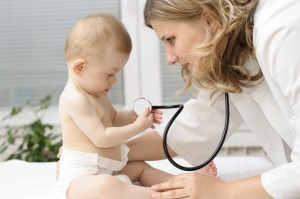 If you are interested in using your nursing skills to work with children, you are probably interested in learning about the certifications needed to become a pediatric nurse. Pediatric nursing is a rewarding field where nurses get to provide compassionate and effective care to infants and children. The skills you need to gain your certification can be obtained through educational programs and practical experience.
Education Requirements for Certification
The process to become a certified pediatric nurse begins where many nursing requirements do, with becoming a licensed registered nurse (RN). You may become an RN through various educational routes, including a diploma, associate or bachelor degrees. According to Explore Health Careers, once you have taken and passed your national exam and become an RN, you can begin to think about further steps toward becoming a pediatric nurse. An RN may pursue a pediatric nurse credential at any point in their educational journey, including after masters or doctoral level training. There are masters degrees specifically in pediatric nursing which can lead to your becoming either a Pediatric Nurse Practitioner or a Clinical Specialist in Pediatrics.
Practical Training Requirements and Exam for Certification
Once you have become an RN, it's important that you gain some pediatric experience in order to pursue certifications needed to become a pediatric nurse. 95 percent of the pediatric nurses who become certified do so through the Pediatric Nursing Certification Board. PNCB's process is rigorous and respected, and they require that you have at least 1800 pediatric nursing related hours in the two years prior to taking their certification exam. Those 1800 hours may be a combination of many things, including direct patient care, teaching, clinical research or consultation. Once you have been approved eligible for the exam, you have 90 days to schedule and take it. PNCB has what they call a "no pass, no pay" rule. If your employer participates in this program, then PNCB will absorb the costs of an unsuccessful exam at no cost to your employer and only require payment if you pass. This is true for up to two attempts at the exam per year. The exam itself has 175 questions and takes three hours to complete. Results should be available to you within two-three weeks.
Keeping Your Certification Current
Once you have become a certified pediatric nurse, you will need to recertify your credentials. If you receive your certification through PNCB, that process is annual. You just need to follow their recertification guidelines. No matter what certification board you use, there will be some process to renew or recertify which you will need to follow. Generally this will involve showing that you've worked in direct care, attended conferences or taken classes, or done other things to show you are staying up to date in the field.
Related Resource: Become a Nurse Practitioner
If you're patient and skilled with children, pediatric nursing can be a great specialty to explore. As a vulnerable and young population, children need a calming and competent presence to help them when they're sick. Although it may seem like a rigorous process, working for the certifications needed to become a pediatric nurse can help you to advance your career in rewarding ways.