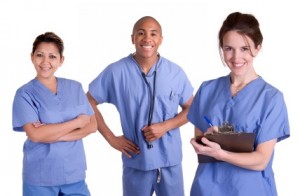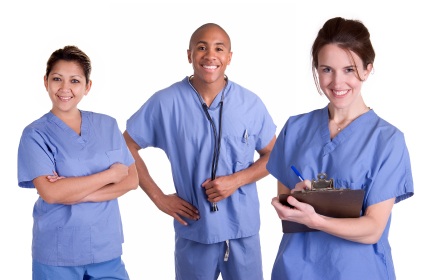 An Associates Degree in Nursing (ADN) is a two year degree for people who want to go into the healthcare field. Nurses are some of the most important people found in hospitals because they learn patient care and teamwork. Nurses must be kind and patient individuals because they will come across patients of all ages with different kinds of illnesses, injuries and health problems. They must be good at problem solving and be ready to learn technical skills. Some colleges accept students into their ADN program if they already have their Licensed Practical Nurse (LPN) or Licensed Vocational Nurse (LVN) certificate. This gives students a better chance of being accepted into any Associates Degree in Nursing program, but it is not necessary.
The Associates Degree in Nursing is usually the first degree many nurses receive, that is if they do not go straight to the Bachelor's of Science in Nursing (BSN) degree. This two year option is available to students who may not have the financial means or time to pursue the four year degree. Once a student has completed their ADN, they must then take the National Council Licensure Examination (NCLEX) to become a registered nurse (RN). Once a person has become an RN, they have the option of pursuing the RN to BSN degree. This option can be found online as well as at traditional colleges. It is in the BSN program that nurses will learn about leadership and philosophy. These are some of the most important classes in becoming a successful and well-rounded nurse.
Career Options and Salary After Earning an Associates Degree in Nursing
A nurse with their Associates Degree in Nursing must first take the NCLEX exam and pass it in order to become an RN. Only RNs are allowed to work in clinics and hospitals in the United States. Nurses can work in small settings, such as clinics or in doctor's offices, or they can work in larger hospitals and with insurance companies. The career options are numerous because the need for nurses will never decrease. Nurses are necessary to keep the healthcare system to move smoothly.
A RN with an Associates Degree in Nursing can expect to make anywhere from $20 to $35 an hour, depending on city and place of employment; and the annual salary ranges from $50,000 to $70,000. There is not much of a salary difference between an RN with an ADN and an RN with a BSN. Some hospitals either pay the same for both or pay slightly higher for the BSN graduate. Ultimately, both must pass the NCLEX exam before being able to work, making them both RNs. The largest difference is that a person with a BSN degree has more opportunities in leadership and management, whereas someone with just an ADN does not have those opportunities.
Options for Earning an Associates Degree in Nursing Online
Earning a degree online has become an option for many people who work full time, have families, or simply do not have the time to go to a traditional college or university. This option allows students to complete their work on their own time, whether it be day or night. To earn an Associates Degree in Nursing online, a person should first check their local college. Many colleges offer online courses, but they must be able to complete their clinicals at a local hospital. The ADN degree cannot be completely finished online because there are labs and clinicals that must be completed in person and under the supervision of physicians and registered nurses.
Chamberlain College of Nursing Online is one college that offers an Associates Degree in Nursing program. All of the courses can be completed online or at their campus in Columbus, Ohio; however, all the clinicals must be fulfilled at the campus site. This ADN costs $52,000 and financial aid is available to those who qualify in the form of Federal Pell grants, Federal Supplemental Educational Opportunity Grants (FSEOG), Chamberlain Access Grants (CAG), subsidized and unsubsidized loans and through the Federal Work-Study program. Chamberlain also offers a Dean's Scholarship, Next Generation Scholarship, Nightingale Scholarship, Navigate to Nursing (N2N) Scholarship Program, Chief Steward Scholarship and President's Scholarship.
Kaplan University also has an ADN program online, and the clinical component of the program must be completed at hospitals in either Palm Beach County, Broward County, or Miami Dade County in Florida. This program costs $40,000, and financial aid is available to those who qualify through the Free Application for Federal Student Aid (FAFSA). Federal Pell grants, FSEOG and subsidized and unsubsidized loans are a few options. Kaplan also offers a Prior Learning Scholarship, Phi Theta Kappa Scholarship, Kaplan University Accelerated Scholars Award, Single-Parent Scholarship, Employment Bridge Scholarship and 75th Anniversary Grant. Students enrolling in the Associates Degree in Nursing program should find out if they are eligible for any of these scholarships to help finance their education.